Providing service since 1950
VAPR Federal Credit Union
Is a non-profit cooperative founded in 1950, being the first federal cooperative established in Puerto Rico. It was organized to provide its members with low-cost financial services. VAPR FEDERAL CREDIT UNION is governed by a voluntary Board of Directors, elected by and for the members. We have four branches, three of them in the metropolitan area and one in Guayama.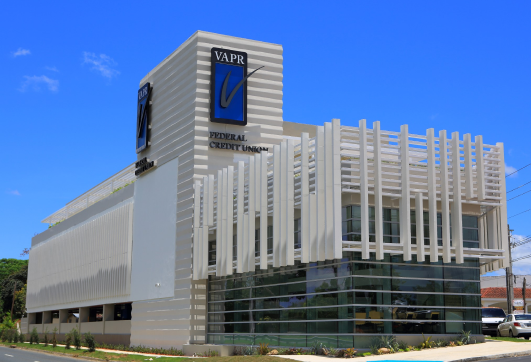 The cooperative is a natively Puerto Rican institution that is registered and governed as a federal savings cooperative. Annually, all of VAPR FCU's profit is returned to members in the form of dividends and low-cost loans.
We, at VAPR, strive to meet the needs of our members by providing new products and services that meet their expectations in order to become their main financial institution.
Cooperative membership is a privilege for federal employees within their field of membership and family members of current members. Even so, if a person is not a federal employee, he/she has the opportunity to become a member of the cooperative. By becoming a member of one of the entities approved by the regulatory agencies, they can also join and become members of VAPR Federal Credit Union. We invite you to join the more than 19,000 members who are enjoying the benefits of our cooperative today.
Our Board of Directors is responsible for overseeing the operations of the Cooperative and setting goals for management and administration to strive to achieve. The Board is made up of volunteers elected by VAPR members at their annual assembly.
Our Cooperative has several committees which continuously contribute to the good management and activity of the cooperative. Among the committees are the Oversight Committee which serves as a link between the board and the administration of our cooperative; thus achieving effective communication between both parties with the purpose of becoming an excellent cooperative for all our public. We also have the "Non Approval Loan Committee", the Asset and Liability Management Committee, and the Nominations Committee, among others
board Of Directors 2023-2024
Mr. Eduardo D. Ortega - President

Dr. Nilsa S. Piñeiro - Vicepresident

Mr. Roberto Rivera Ponce - Treasurer

Miss. Olga Iris Barreto - Castro - Secretary

Atty. Gabriel A. Olivera Magraner - Director

Mrs. Vilmarie Noriega - Director

Dr. Charles Juarbe Santos - Director

Mr. Pedro J. Toro Cancio - Director

Mr. Humberto M. Monserrate - Director

Atty. Katherine Ruíz Díaz - Director

Mr. Fernando A. Vélez Garrett - Director
Mission
Provide excellent financial services by providing personal attention, fostering a citizenry that, through the achievement of its financial well-being, contributes to the socioeconomic development of Puerto Rico and is a living example for the rest of the world of the virtues of cooperatives.
Vision
To be the first option in financial services for our members and their families, as leaders in the cooperative sector, offering them education and excellent services, so that they can forge a secure financial future.